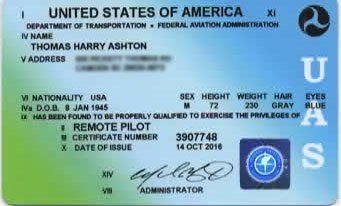 Thom Ashton, an Instrument rated Private Pilot since 1978 also holds an FAA Remote Pilot license. Thom also carries liability insurance including special Drone coverage to see your project through. Contact us today for your aerial photographic needs.
To qualify for a remote pilot certificate, a person must Demonstrate aeronautical knowledge by either:
Passing an initial aeronautical knowledge test at an FAA-approved knowledge testing center; or hold a part 61 pilot certificate other than student pilot, complete a flight review within the previous 24 months, and complete a small UAS online training course provided by the FAA.
Be vetted by the Transportation Security Administration.
Be at least 16 years old.
As an example the FAA has explicitly stated that "a Realtor using an Unmanned Aircraft System (Drone) to photograph a property that he is trying to sell and using the photos in the property's real estate listing" is engaged in a commercial enterprise. A person photographing a property or event and selling the photos to someone else is also engaged in a commercial enterprise.
Realtors, Utility companies and other commercial drone operators "are subject to all existing FAA regulations, as well as future rule-making action," the FAA said. This includes obtaining a Remote Pilot's license with Unmanned Aircraft Systems certification.